Wi-Fi Capability Digital Microscope
The Celestron Micro Wi-Fi Microscope is here and it is packing a great deal of functionality. The days of the old-fashioned microscopes are over because digital microscopes, such as this one, are taking over the industry. The Celestron Micro Wi-Fi Microscope is a handheld digital microscope that synchronizes well with your smart devices to capture images and stream live videos over the air. It is Wi-Fi enabled which is why it works very well with smartphones and other Wi-Fi enabled devices.
If that feature amazes you, you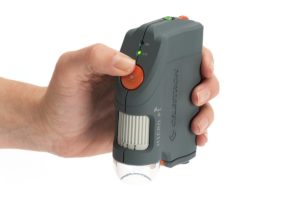 will be more awed by its ergonomic design. You are able to control the microscope with only one hand while using your smart device on the other.
You can easily capture images or record videos by simply tapping on your device's touchscreen or pressing the Celestron Micro Wi-Fi Microscope's trigger. The Celestron Micro Wi-Fi Microscope definitely makes it easier to share the learning experience with other people.
Excellent Magnifying Feature
One great feature of the Celestron Micro Wi-Fi Microscope is its capability to magnify up to 80 times. This greatly compensates its maximum image resolution of only 0.3 megapixels. Although some users consider the camera feature a bit outdated in terms of current camera standards, many of its users still find the microscope above average. It still does capture crisp images and it does not occur dark screen while video recording or live streaming.
Smart Device Syncing
The Celestron Micro Wi-Fi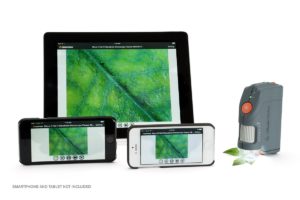 Microscope can seamlessly sync with your smart device through it's dedicated and free Micro Fi app which can be downloaded for free from the App Store and Google Play.
Once downloaded, simply go through the instructions and you can already view the microscopic view right on your smartphone. You will know if both devices are linked successfully once the Wi-Fi LED turns green.
User Experience
Some users find troubles when linking their smartphones to the handheld microscope. But, the best cure is by simply shutting the microscope off and turning it back on after a minute. And everything should be good by then.
You will already have the ability to see the microscopic world on a large screen, whether it is a smartphone, a tablet, or a laptop. You can even make it more useful by making it a tool to collaborate with others.
With its Wi-Fi capability, you can quickly share your items of interest through social media or email. It can even allow up to 3 devices to live stream at once with up 30 feet of signal range.
Battery Usage
The Celestron Micro Wi-Fi Microscope comes with 3 AA batteries. The power capability may be a bit off but the device can last a couple of hours. It is perfect for short-term forensics, inspection, and classroom exploration. Moreover, it can also serve as a surveillance camera if its lens configuration is set at infinity focus.
The ergonomic design of the device allows its users to operate it using a single hand. It can also work with a tripod through its built-in ¼-20 threading insert. You will never experience a more portable microscope than the Celestron Micro Wi-Fi Microscope.
The product weighs only 1 pound and with all its inclusions, its shipping weight is 10.4 ounces. The shipping rate should not cost that much with a small package.
More User Feedback
With the amazing features of the Celestron Micro Wi-Fi Microscope, almost all of the users consider this product a great buy. Its camera features may seem a bit outdated but this handheld microscope still works like a charm.
The images from the device are still crisp although users of the latest smartphones want higher image resolution. Nonetheless, if the purpose of the device is simply for collaboration or sharing, the default resolution should suffice.
The great thing about the Celestron Micro Wi-Fi Microscope is its portability and functionality along with its reasonable price. It is very portable and has a design that is user-friendly.
Even first-time users would get the hang of using the device just minutes after pairing it with their smartphones. There are only a few buttons on the interface which are for capturing pictures, recording videos, and powering the device.
Pairing the handheld microscope with your device is just as easy as turning it on since Wi-Fi is used instead of the usual Bluetooth. It also has a USB port for charging and other sharing options.
Aside from these things, it features an adjustable 6 LED ring illumination to observe objects even at low light. With all these features, you surely would already think about the hefty price tag.
Fortunately for this device, it costs a lot less than other handheld microscopes out there. Considering the product cost and the shipping rate, you would probably consider this device as a great buy just like everyone else.
Final Thoughts
Overall, the Celestron Micro Wi-Fi Microscope is a great and useful tool for observing objects at a microscopic level and sharing images and videos to other people via the internet, thanks to its Wi-Fi capability.
Many of the users are really happy with the functionality of the device. A lot of them have been using the microscope for several months now and it still works perfectly. Proper usage and maintenance will greatly prolong the lifespan of the device.
As a side note, the product comes with a warranty period from the manufacturer. You will be able to get a free repair or replacement service. But even so, only a few users were able to experience issues with their devices. In fact, most of them are just minor issues.
The device is ready for usage upon the shipment, so there is no need to attach additional parts. You may choose to add a tripod if you want.
Furthermore, the device is ready-to-use and the instructions for pairing and using the item are already on the instruction manual which is already in the package. Also, all of the users find real satisfaction with the fast delivery and all of them received their orders in great condition. Celestron is definitely a company you can trust when it comes to technological innovations.