Microscopes are one of the most essential tools that are present in different industries, especially in the medical and scientific world. Such instruments are great tools in analyzing and testing different kinds of samples. And many thanks to the current technology, microscopes have become digital and innovative that allows many industries to grow and expand further. Hence, this has become the main reason why you would see numerous digital microscope brands on the market today.
Digital Microscopes As A Whole
A digital microscope is becoming the most favored optic tool today. And its convenience and efficiency are some of the reasons why. Although many believe that digital microscopes have their downsides as well, a lot of individuals are looking further towards their advantages and pros.
Apparently, digital microscopes are not far different from the common and standard microscopes. But the main thing that sets the digital microscope from the conventional types is its eyepiece equipment.
As it happens, digital microscopes do not have a standard eyepiece. And instead of having one, they actually feature a digital camera that serves as the main eyepiece of the instrument.
With this digital piece, it allowed every user to conclude analysis and tests much easier. Also, results are even transferrable anytime and anywhere through different programs and software. And basically, these kinds of conveniences are the biggest advantages of a digital microscope.
Buying Digital Microscopes
When buying a digital microscope, the price may vary depending on several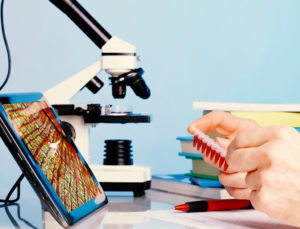 factors. But you can expect the price to be very fluid. In fact, the usual range of total cost is between $10 and $10,0000. So, if you want an entry-level and basic type, you can choose to buy a very inexpensive digital microscope. But, if you are looking for a much-advanced and innovative unit, then prepare yourself to shell out a few hundred up to thousands of bucks.
One of the most apparent variables that affect the total costs of buying a digital microscope is the brand. And today, there are a few names in the industry that are known to offer this kind of optic tool. Although it is true that the market of digital microscopes is becoming more expanded, not all brands that produce different laboratory equipment and tools offer such microscopes.
And if you are finding for a great digital microscope brand today, you may want to continue to read on and learn which brands may help you with your microscopy needs and requirements.
Today's Digital Microscope Brands
If you are looking for an effective and reliable digital microscope on the market today, you would encounter several of them. In fact, the number of digital microscope brands is continuously increasing due to the expanding demand.
And in this quick guide, we've included some of the most popular brands and names today.
Andonstar Microscopes
If you check a few buying guides and reviews in the online world, you would almost always see Andonstart microscopes as some of the best rated types. This is because their digital microscopes are very innovative and high-tech.
The most famous feature that their digital microscopes have is its magnification figure that can reach up to 560x. Also, its most popular unit features 1080p video resolution. Hence, this means that some of their digital microscopes can already record live feeds and videos when the instrument is used.
These innovations are some of the reasons why Andonstar is very much popular these days. However, their products and deals are very expensive. And this is the biggest drawback of the brand. But even so, users and enthusiasts believe that their digital microscopes can justify the price and worth.
Dino Lite
Omano Microscopes are well-known in several industries. Aside from the wide variety of microscopes that the brand is offering on the market, all of their optic instruments are very inexpensive.
Now, Omano also offers digital microscopes. But, these units are produced under the brand, Dino-Lite. And these microscopes are all USB types.
Although the said product line is just a newly added sector in the company, it has been found that a lot of users prefer to using Dino Lite microscopes. Aside from the fact that they are relatively cheap, these instruments are compact, reliable, and efficient.
The magnification that an individual may experience from these units range from 10x up to 400x. Also, these microscopes come in two different output – USB and TV/AVI.
The main drawback of this brand is that all units are made in China. Many believe that these microscopes are cheap both in price and quality. But as what the actual users would testify, Dino Lite digital microscopes are very powerful instruments and are perfect for quality control, research, and sciences.
Seems interested? If you are, then this Dino-Lite USB Handheld Digital Microscope review might help you!
National Optical
National Optical is one of those digital microscope brands today that are quite famous due to its connections. As it happens, this brand is a sister company of Motic and Swift Microscopes. And being connected from the said name, they receive the same benefits of becoming much more trustworthy in the eyes of the public and consumer.
Apparently, National Optical focuses on several types of microscopes. As for their digital units, they only offer a few on the market. But while their digital product line is not entirely huge, National Optical is very famous for their great and effective warranty term.
When you purchase a National Optical digital microscope, you will be entitled to have a lifetime warranty. So, in one way or another, the units purchased can last longer in your possession.
OptixCam
OptixCam is not entirely a digital microscope brand. But, they are known for their digital microscope cameras that are very essential to every digital microscope.
The cameras that OptixCam offer is very sleek. Also, these units are usually for measuring software, live video imaging, and industrial designs. In addition, they are very famous for their reliable and efficient color resolution. And get this, these cameras come at cheap prices too!
Jenoptik ProgGres
Jenoptil ProgGres is quite similar to the OptixCam. Their products are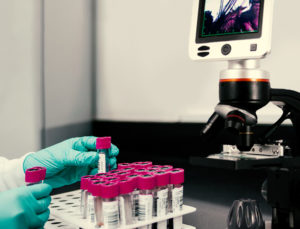 more focused on digital microscope cameras. And while they are just new in the world of microscopy, they have been as one of the most reliable digital microscope brands of today.
Primarily, their USB and Firewire microscope cameras are built to answer several high-end requirements from different industries. Secondly, all of their products are relatively cheap in comparison to the most high-end types of digital cameras. And thirdly, these cameras are all efficient and reliable in terms of functionality.
Motic Microscopes
Motic is a sister company of both National Optical and Swift Microscopes. And the company that owns these brands is Speed Fair Co., Ltd which is a Hong Kong-based company.
Motic offers several types of microscopes which include digital microscopes and digital microscope cameras. But, the target market of these products are all focused on the educational sector and laboratories.
As for the manufacturing processes, Motic cameras and microscopes are all assembled in China. In terms of the quality assurances, these products are all checked in the United States.
Celestron Microscopes
Celestron is famous for their optical instruments and products. Aside from digital microscopes, the brand also offers telescopes and sports optics that are useful in different industries.
More often than not, Celestron products are one of the best entry-level optics on the market today. And as for their digital microscopes along with the accessories, many find real satisfaction with the quality and functionality.
The accessory inclusions on the packages are usually one of the things that are many points out when talking about Celestron. Also, you would notice that the build and structure of the optics are quite handy and portable which make these tools very user-friendly and versatile.
Koolertron
Koolertron is one of those digital microscope brands that are very inexpensive. In fact, you can already have your own digital microscope for a price that falls below $75. And it already comes with the essential accessories.
However, there is not much option with Koolertron. As it happens, there are only less than five digital microscopes that are available under the said brand. Nevertheless, Koolertron is still famous not only for their innovative optic tools, but also for other equipment like computer accessories, photography tools, and car electronics.
Digital Microscopy Today
Gone are the days when certain individuals and professionals take time just to do an analysis or data research for a specific sample. Thanks to the wonderful works of technology, digital microscopy has been made possible. And with this possibility, many companies and brands have become available in offering the market with numerous digital microscopes and digital microscope cameras.
The digital microscope brands listed in this article are just some of the most prominent and reliable names in the industry. When you take time to look for others, you will see that there are quite a lot more. And it is very much recommendable for you to check these brands out, especially if you are planning to purchase your own digital microscope soon.
Now, if you want to learn more about different digital microscope brands, this video may help you out: