In this day and age, almost all things now come in digital form. Aside from the convenience and efficiency, digital tools deliver more effective results. Not to mention, the advantages that it can provide to society. So, it is not surprising at all that even microscopes have digital types too! In fact, a digital microscope has been well known since the late 80s.
But, are you that familiar with the said tool? Apparently, digital microscopes are essentially designed for hobbyists. As it happens, enthusiasts and hobbyists are mainly the ones that made the market of digital microscopes quite prominent and wide. But, a lot of professionals use this too!
A Word On Microscopes
"Small" and "to look or to see" – In Ancient Greek, these are the actual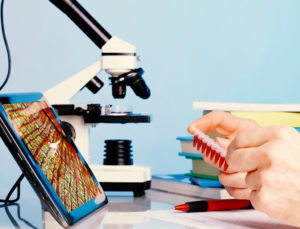 meanings of the word "Microscope."
Apparently, microscope, in general, is an optic tool to see or examine small objects that are naturally too minuscule to notice by the naked eye.
Most of the time, these tools are present in hospitals and laboratories. But even so, schools and universities have microscopes as well, especially if they have their own laboratories.
Today, there are several types of microscopes. In fact, you would encounter tons of them. Although they are not all used every time, each of these types has their own unique functions. And they all have their own distinct characteristics too.
And among these types, the digital microscope is just one of them.
About Digital Microscope
Digital microscopes started in Japan. Many sought the need to connect the stereo microscopes to cameras and monitors to further enhance the flexibility of the output. And so it did when the Japanese were able to connect successfully the microscopes.
Now, a digital microscope is just the same as the conventional microscopes. The only difference is that it is digital. Accordingly, using this type of microscope will entail the use of digital cameras, monitors, and screens that are compatible with the microscope.
And with this at hand, the discrepancy between the digital and conventional microscopes largely and significantly lies on the magnification. Using a conventional microscope (or referred to as the stereo type), users may find the magnification effectively by multiplying the lens by the eyepiece magnification.
On the other hand, digital types do not have an eyepiece. So, the magnification can be found in a different process. And since using this type involves the use of screens and monitors, the magnification largely depends on the size of these monitors.
So, basically, digital microscopes are all equipped with digital cameras. If you want to have a quick view, you may want to check this Plugable USB Digital Microscope review.
Features and Functions of Digital Microscopes
Digital microscopes have certain features and functions that are quite different from the typical microscopes. And these are generally the things that make them unique and quite popular.
Digital microscopes became more apparent in several fields when computers have become so much more than mere entertainment. This is the time when computers have become more compact and precise. And during this period is when the platform of microscopes has entered the new era.
Now, such microscopes are connected to computers using a USB cable. This is usually done when the microscope does not have its own viewscreen. So, it's like connecting a mouse or a keyboard to your desktop computer.
In some cases, you may have to purchase a separate camera that is suitable and compatible with your microscope.
These microscopes have CCD sensors. Hence, this only means that they no longer rely on optical lenses alone.
One of the wonderful works of the digital age is that it allows these microscopes to come with light and sensitive pixels. And because of these, such tools may now capture images that when transferred to computer software, users and viewers can then magnify and view in real time the images.
Also, these technologies allow the output images to be in 2D and 3D measurements and formats. Plus, it can display 3D images too just like the Dino-Lite USB Handheld Digital Microscope.
In addition, CCD sensors are largely manageable and controllable by the user. The speed at which this sensor may capture the images is highly adjustable too.
In totality, CCD technology is mainly the reason why images and screen captures are now viewable in real time motion. So, this means that users can then view the living samples and other biotic factors continuously.
Moreover, this allows for the images and footages to be printed, stored, and saved whether as an online file or a desktop file. Furthermore, the said technology enables the users to transfer the images by using the internet.
Alongside these innovations and technologies, there are specific applications that a digital microscope can provide to users and laboratory technicians. One great example is the image transfer to a physician or an allowed individual in one building or on the other side of the globe in a matter of minutes. So, it's like sending a chat or a message.
This type of microscope is much more versatile and flexible. As mentioned,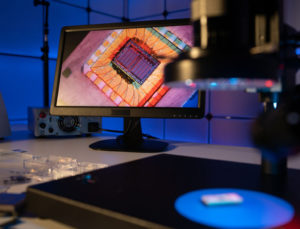 its magnification is quite different from the conventional types. And apart from the uniqueness of the method, digital microscopes can provide up to 1000x of magnification which is very significant.
Also, the resolution can be totally enjoyed, especially by hobbyists and enthusiasts due to its capabilities of a compound light feature.
With all of these characteristics, users can totally achieve a much graver and greater details. And this is truly a helpful thing for every industry who utilize microscopes.
With the help of its clear resolutions and its ability transfer images onto a computer screen, users can largely manage and control the size of the images. And as mentioned, this will depend on the size of the monitor or the screen.
All in all, the features and functionalities of digital microscopes are very much essential to many fields. All of these are found to be very beneficial.
Types of Digital Microscopes
Before you purchase your digital microscopes, keep in mind that there are two types of this optic tool. And learning the difference between the two will help you learn which one will work best on your end.
Integrated Digital Microscope
The Integrated Digital Microscope is a standard trinocular microscope that has built-in camera components. Also, it has a typical cube-shaped housing that makes it very obvious upon checking the overall structure and build.
Which is why this type of digital microscope is almost always found in several classrooms and institutions. This type is also neat and very easy to contain. Plus, it is more organized than the other type since its wires and parts are very minimal.
However, the Integrated Digital Microscope is not that flexible and versatile. It lacks the total flexibility that would allow the camera's rapid obsolescence
Standard Trinocular Microscope + Camera
The Standard Trinocular Microscope + Camera is actually a stand-alone unit of microscope. The only difference is that you will need to purchase a separate digital camera that is suitable and compatible with the microscope.
One great advantage of this is that once you own a compatible digital camera, you can now then use it with other type of digital microscope. Whether you want it to be equipped in a monocular or a binocular microscope.
Accordingly, this type of digital microscope is much more flexible than the other type.
Users of Digital Microscopes
Digital microscopes are becoming more popular these days. And one apparent reason behind is that these optic tools are very inexpensive and very functional. It is found that a lot of people, both in the medical and other related industries, are using this type of microscope in their respective tasks and lines of duties.
Generally, digital microscopes are largely utilized for analysis and logistics. They are very much ideal in the sense that they are very convenient and efficient to use. But even so, such instrument is also beneficial to many fields such as research and development, quality assurance and control, manufacturing, and laboratories.
These fields and areas are essentially obvious users of the digital microscopes. As for the non-obvious sectors, these would include the academe, institutions, and private sectors. In fact, many private individuals are found to utilize these tools for their own entertainment and hobbies.
Advantages and Limitations
The advantages of a digital microscope are quite too many to mention. As it happens, this instrument is considered to be a great addition to many industries of today.
Primarily, this microscope is very convenient to use. With its capability of touching the online world, the output and data can be easily managed, stored, and analyze.
Secondly, digital microscopes are much cheaper than the usual and conventional types. Although one would still need to shell out a few hundred bucks, this is still much more cost-effective in comparison to other types.
However, this great and beneficial optic instrument has its own limitations as well. Since it is already digital, using a digital microscope would require power connections and sources.
For more information about digital microscopes, you may want to check this video: