AlsIn the world of digital microscopes, on top of the competition is the Dino-Lite USB Handheld Digital Microscope. This modern-day microscope is only 6 inches long at only 3.84 ounces. The Dino-Lite USB Handheld Digital Microscope is obviously one of the smallest handheld digital microscopes out there. But there are so much more in the device despite its tiny appearance.
It features a great deal of functionality that any microscope user would definitely find interesting.
Maximum Magnification Features
Its optimum magnification range is 10x-50x with a maximum magnification of 220x. Depending on the model, its image resolution varies from 0.3 megapixels to 5.0 megapixels. It can record videos of up to 30 frames per second.
Also, it can save images and videos at almost all sorts of formats. Plus, it can work well on both Windows and Mac devices so there should be no hassle in synching the digital microscope to smart devices through a USB connection. The Dino-Lite USB Handheld Digital Microscope is a useful tool for lab or field environments thanks to its very portable design.
Portability
The most interesting part about the Dino-Lite USB Handheld Digital Microscope is not on its portable size but on its various features. It sports the MicroTouch feature for more user convenience.
A trigger sensor is added to give the user a convenient snapshot ability without disturbing the image. Other types and models of digital microscopes use a physical button which can disturb an image while being captured.
The Din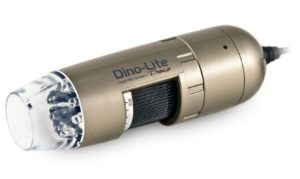 o-Lite USB Handheld Digital Microscope also sports the measurements feature which is very useful in various occasions. You will be able to calibrate and measure dimensions of circles, lines, and angles while observing objects at microscopic levels.
It will be so much easier for you to include text annotations and draw lines and shapes on the image once captured. Many of the users have found this feature very useful especially when sharing captured images to other people.
Polarization
Another great feature of the Dino-Lite USB Handheld Digital Microscope is its polarization. It includes a built-in polarizer that greatly reduces glare on reflective surfaces.
Although you will not be able to notice this right away, there will be occasions that this feature will come in useful. Was it mentioned that you are able to change end caps on the Dino-Lite USB Handheld Digital Microscope?
Various selections of end caps used for different applications can be swapped on the default one with ease. If you need more focus or magnification, switch the end caps and you will be able to observe what you need. A single set of alternate front caps is included in the package. Now is not that a great deal?
With this digital microscope, you will be able to automatically capture and combine multiple images with different focus levels to create an image with a greater depth of field. This will let you obtain an optimal image resolution just enough for sharing with other people.
The Resolution Feature
As with any other digital microscope, the resolution is always the main focus of microscope users. Image resolution is often the deal breaker for digital microscopes.
As with the Dino-Lite USB Handheld Digital Microscope, the resolution is not that impressive. However, there are a few things you need to take note of. Other models of the device only feature 0.3-megapixel maximum resolution while the more advanced model boasts a 1.3-megapixel camera.
However, if you want more crisp and quality on your captured images, there is a model that packs a 5-megapixel camera resolution. This is more than enough to capture great images at a microscopic level. One thing you need to take note of is that image resolution is not that important if your purpose is simply for educational purposes. Objects at microscopic levels are already vividly observed at low image resolutions.
The Use in Classrooms
Classroom discussions can already be initiated even with the lowest resolution. However, if you want to share images for important reasons, such as forensics and investigations, it is highly recommendable that you go for the 5-megapixel version.
The pricing is a lot different but the latter version is more useful in those applications. The great camera of this digital microscope allows the user to create a vivid image by combining layers of similar images at different focus levels. The result is a depth of field on the image which is really great in sharing online.
The 30 frames per second maximum frame rate for video recording is already a standard in the digital microscope industry. Many of the users experience a delay-free recording while using the device.
Setting Up
The Dino-Lite USB Handheld Digital Microscope is very easy to set up. The item is already ready to use right out of the box. All you need to install its driver software on your smart device and you can already use the device immediately.
The package includes the Dino capture software CD for installation, calibration target, 6 pieces alternate front caps, and the device itself.
Simply plug the digital microscope to your smart device through the USB cord that comes along the device. Wait for installation process of the software and your smart device will already be able to view what the microscope sees.
Because the Dino-Lite USB Handheld Digital Microscope is a single-handed device, capturing images and recording videos can be safely done through the smart device.
Customer Support
Customer support is one of the best things about this product. Many of the users choose the Dino-Lite USB Handheld Digital Microscope due to the company's value to its clients.
Because Dino-Lite has already been an innovator in portable digital microscopes in the industry for over 10 years, they have already a trustworthy reputation to the public. The Dino-Lite USB Handheld Digital Microscope along with all other Dino-Lite digital microscopes comes with a 2-year warranty.
You can get support via phone, email, or web support. Although the device is sturdy and long-lasting in itself, getting a 2-year warranty is already a good deal. Considering the price, design, and features, the Dino-Lite USB Handheld Digital Microscope is definitely a must-have gadget.