For sure, you have heard of Jiusion USB Digital Microscope. That is, if you have been looking out for the new releases in the market today. It is considered one of the most portable digital microscopes in the current market. And because of its overall portability, a lot of people, especially beginners, are really looking forward to own one.
As it happens, it provides an optical magnification that is very much useful for professionals. These professionals include scientists, inventors, and engineers as well as students. In fact, even those who just want to see the world in the microscopic level. Hence and clearly, it is not just like most traditional microscopes that let you only magnify specimens of interest. Plus, it can give you more with its built-in software support as well as a high-definition camera.
Jiusion USB Digital Microscope and Smartphones
Did you know that you can make use of and control the Jiusion USB Digital Microscope with the use of your smartphone? 
Yes! – You got that one right. And this is by far one of the most convenient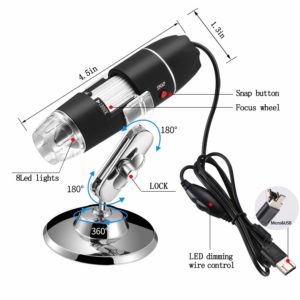 features of the said microscope. Although a lot of digital optical instruments are already USB and WiFi-enabled, this model is one of the so-called frontrunners in the industry.
In addition, you no longer need to install additional software and applications when using this kind of digital microscope. All you have to do is plug it through an OTG cable. You can even able to connect it easily to your television or computer.
After you have successfully connected your microscope, you can then utilize its built-in software to record videos and capture images. And depending on your chosen or subjected specimen, this optical instrument can naturally help you inspect them inside out.
Sure, it has its upsides and advantages. However, users cannot fully utilize the Jiusion USB Digital Microscope by using iPhones.
Windows users are often the ones who can maximize the features of this microscope using its measurement function. Nonetheless, there are also other features that Mac users can take advantage of when it comes to this particular digital microscope.
Microscope Dimensions
In terms of dimensions, the Jiusion USB Digital Microscope measures 5.5 x 5.1 x 2.1 inches. Its weight is also estimated to be about 7 ounces. Just by looking at these dimensions, you can no doubt conclude that this type of digital microscope is indeed very portable. So, users can carry it with them all day long, anytime, and anywhere. 
And this factor makes this model a much more convenient instrument for many hobbyists, students, and enthusiasts. And although this one is quite perfect for most entertainment and education purposes, individuals and professionals from various industries are also seeing the real convenience of using this microscope.
So, whether you want to use this on research purposes or for your simple enjoyment, you are free to do so. In fact, you can make use of this digital microscope to magnify just about anything that you see on any surface.
Magnification Ratings and Levels
To get it working, you do not have to use any slides anymore to keep the specimens in place. All you have to do is just hover your device to the specimen that you are thinking of magnifying. Just make a few adjustments to its lens, and there is no doubt that you can get the right magnification levels of your samples already.
The focus range of its lens is between 10 mm and 250 mm. Unfortunately, this range is pretty small for its build and design. When you compare it to most digital microscopes of today, its magnification rating will take its place into the lower end spectrum of the instrument. And this is actually one of the downsides of the microscope. Accordingly, many serious users would not want it due to this aspect. 
Recording and Shooting Capacities
If you are going to record videos and shoot images using your Jiusion USB Digital Microscope, you can expect to get the standard recording capacity of 30 frames per second. This is not actually a bad thing as this is often the standard for most digital microscopes released today. Nonetheless, its magnification ratio is between 40x and 1000x.
For those who have tried using this particular digital microscope, they have verbalized that going for the maximum magnification ratio has rendered them with blurry images. Even so, having this kind of magnification is already amazing in itself as most digital microscopes can only give you up to 80x of magnification ratio.
And so as mentioned, the Jiusion USB Digital Microscope has its advantages and drawbacks as well. If you want to learn more about its overall features and functions, this quick video review about the product might help you:
Appearance and Style
If you look at it closely, you would notice that it is in, someway and somehow, similar to most digital microscopes of today. In terms of appearance and style, there is nothing quite special. But, its sleekness and stylish appearance make the most out of its overall look.
It is quite simple, though. But, many users would want it as it is. So, if you want a minimalistic appearance, this would already suffice. On the other hand, if you want a much more "wow"-looking appearance, then you may want to check other digital microscopes.
Additional Features and Specifications
The Jiusion USB Digital Microscope takes pride in its built-in LED lights. And get this, they are all highly adjustable. As it happens, users can naturally control and adjust the brightness levels through its knobs. So, whether you want a dimmer lighting shade, then you are free to adjust it.
Keep in mind that not all digital microscope offers the same kind of feature. And this makes it much more functional and useful for research purposes.
Final Thoughts
In totality, the Jiusion USB Digital Microscope is a decent kind of digital optical instrument. And its overall functionality makes it very worthy of its price. Although it may not be the best out there in the market, this could work fine for every microscope user.