The Microscopic World
Observing the microscopic world has never been easier with the release of the Koolertron Wireless Digital Microscope. This modern-day digital microscope is only 6.5 inches long and only weighs about 10 ounces but it packs a lot of power and functionality.
Koolertron is already a well-known company for producing electronic gadgets and microscope solutions to millions of customers all over the world. The Koolertron Wireless Digital Microscope is one of their state-of-the-art innovations that have already received praises from thousands of professionals and regular users.
There is a lot to love about the product. With its Wi-Fi capability and three image resolutions, any microscope user would definitely consider having this device in their office or laboratory. Imagine yourself being able to view the microscopic world right on your smart device.
Wi-Fi Enabled Feature
The Wi-Fi enabled digital microscope is pairable with any phone or device running in Android, iOS, Windows, and Mac. It supports high-definition image transmission through the manufacturer's self-developed software. You can easily take photos and record videos wirelessly and you will get the same quality as what the microscope can see.
Although the device does not support various photo and video formats, it can still store files using the popular JPG, MP4, and AVI formats. This popular device is not just for professionals but also for children, students, and collectors alike. Anyone who is interested in observing the micro world should definitely try out this device.
Built-in Lithium Battery
The Koolertron Wireless Digital Microscope features a built-in lithium battery so you can work anywhere and anytime. A fully-charged battery can power up the device to up 3 hours of continued use.
It is rechargeable by using a USB cable that comes with the package.
The device is very portable with only a dimension of 6.5 x 4.7 x 1.9 inches and a total weight of 10.7 ounces. The package includes an adjustable stand that you can use to put the device securely in place. You can observe the micro world even at low light through the microscope's 8 adjustable LED light. You will be able to get your desired level of illumination by adjusting the LED light's brightness level.
Maximum Magnification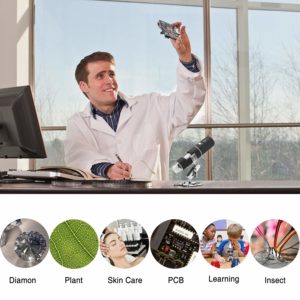 The Koolertron Wireless Digital Microscope sports a 2-megapixel camera with a 50x – 1000x magnification range. Although the 2-megapixel camera resolution is a bit outdated compared to many other portable digital microscopes out there, its camera capture quality is still considered superb. Many of its users never had complaints about the capture quality of the microscope's camera. Even at maximum magnification, you can still see the details of the specimen at a crisp level. Video recording is also commendable on this device. You can record videos at 1080p, 720p, and 480p. The digital microscope does not support direct file storage but you will be able to store captured images and recorded videos through your connected devices.
Wireless Digital Microscope for Students
The great thing about the Koolertron Wireless Digital Microscope is its simple design and structure. It is not complex to use due to its minimalistic design. There are no unnecessary buttons or parts included, only the important ones. This is the reason why this device is very popular with students and children and even to first-time users. The device is almost ready to use right out of the box. All you have to do is connect the digital microscope to any supported device and you are good to go.
At the same time, the digital microscope also supports a USB interface to connect to computers, televisions, and projectors. If you wish to connect it wirelessly, you will need to download the self-developed software application first. It may take a few minutes before both devices are connected but everything should be good once done.
Once paired, you can already start taking pictures and videos easily. Not only that, you can start sharing your captured observations with other people through email and MMS.
Affordability
When it comes to the price tag, the Koolertron Wireless Digital Microscope does not disappoint. In comparison with the other portable digital microscopes in the market today, the Koolertron Wireless Digital Microscope definitely has an affordable price. With its price tag, you would not expect that it packs this kind of functionality.
It captures great quality images and is highly portable. Its software app can easily be installed and works perfectly without bugs. Many of its users are happy with the Koolertron Wireless Digital Microscope due to its durability and cost. You would not think that this affordable item can last for several years without malfunction.
Adjustable LED Light
One of the most useful features of the Koolertron Wireless Digital Microscope is its adjustable LED light. Its 1080 lens comes with a built-in white 8 LED light that is completely adjustable for your desired illumination.
The lens also comes with CMOS sensor image processing technology that enhances the image and video quality even at low light. The camera of the Koolertron Wireless Digital Microscope may not be the greatest but it is still commendable in most observations.
The device is optimal for various applications such as skin inspection, observations on animals and plants, and industrial inspections. It can capture crisp images in just a single click on the device or through the installed software application.
Package Inclusions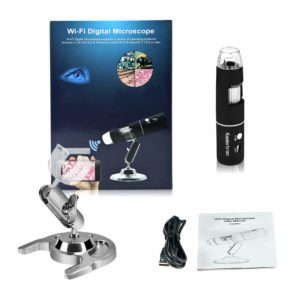 The delivery of the device is also superb. The manufacturer really knows how to send their items safely and in a timely manner.
There have been no reported cases of customer returns due to physical damages to the product. It only takes a few days for you to receive the item but the actual delivery period depends on your location.
The packing includes an adjustable metal stand, USB charge data cable, a user manual, and the WiFi digital microscope itself. Overall, the product works just as how it should. Perhaps no other unit can take quality pictures just as this one considering its size and price.
The actual magnification may not be the best but it works decently. Koolertron really knows how to incorporate convenience and functionality in all their products. You should consider getting one for personal or commercial use.