One of the most highly recommended digital microscopes among professionals is the Plugable USB Digital Microscope. It is a simple digital microscope with a minimalist design that works quickly and effectively at magnifying and observing objects at the microscopic level. This modern-day microscope is ideal not just for professionals but also for kids, students, and hobbyists.
Maximum Microscopic Magnification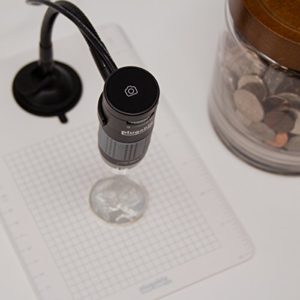 The Plugable USB Digital Microscope has a maximum magnification of up to 250x. This magnification range may seem a bit outdated to the latest digital microscopes today but its camera still works effectively at maximum magnification without any grain or darkness. It has a USB 2.0 interface to connect the digital microscope to any support smart device.
It has a plug and plays formula which means that you can directly get live streaming of the microscopes to view through your smartphone, computer, television, or projector. There is no need for a driver or software installation or whatsoever.
Simply plug in the device using the included USB cable and it should work perfectly just as how it should. The Plugable USB Digital Microscope sports a high-quality camera that can capture images up to 1600×1200 resolution. It can also record videos of up to 30 frames per second and a format of up to 640×480.
With its great specs, you would not believe that this digital microscope does not come with a hefty price. In fact, you can get one at only around $35. Now that's a great offer you should not miss!
Plugable USB Digital Microscope
The most convincing feature of the Plugable USB Digital Microscope is its compatibility. It works well with most operating systems, including Windows, MAC, Linux, Android, and iOS.
Users never had difficulty connecting the digital microscope to their devices using the USB cord that comes with the package. It only takes a few minutes for the synchronization of both devices to complete. Aside from compatibility, the Plugable USB Digital Microscope is also very portable.
At only 9 inches long and a weight of 10.4 ounces, this miniature microscope can be brought and used at almost any surface. There is no need for metal slides just to observe the specimen. Simply hold the microscope on one hand and point it to any surface or object to start observing the microscopic world.
Now if that sounds very interesting to you, you should also know that the package includes a flexible arm observation stand that you can use to hold the microscope securely in place.
Traditional Microscope Feature
Now you can use it as a traditional microscope but without the hassle. You can easily analyze specimens at any angle by positioning the flexible neck of the handle precisely where you want it. You can attach the digital microscope to any level surface and use the graduation marks to measure specimens by utilizing its suction cup mount and graduated observation stage.
If the stand does not meet your needs, you are free to use any other stands as alternatives. The Plugable USB Digital Microscope is portable enough for most types of stands.
The Plugable USB Digital Microscope also comes with a built-in LED lighting. Its LED halo light has a brightness adjustment control that you can freely operate while using the device. This LED light is very useful in observing objects at low to dim light settings.
The 2-megapixel camera of the Plugable USB Digital Microscope allows you to view most types of specimens at full details. Capturing images using the microscope has never been so easy through its dedicated camera button. With just a single press, you will get crisp photos of your observations.
Some users experienced grainy and blurry photos when capturing images at maximum magnification and low light setting. The optical zoom of the microscope is only up to 40x but you can still see the major details at further magnification.
Smart Device Connectivity
Sharing images to other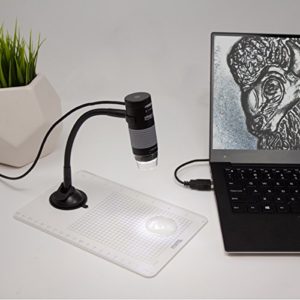 people is also very convenient with the use of this device.
All your data observations are directly stored to the connected device. If your smart device can access the internet, you can quickly share them via email or MMS.
The Plugable USB Digital Microscope uses a webcam chipset and sensor to provide syncing observations to the device. What the microscope sees can be seen to your smartphone or computer.
Users state that there are no delays in their live streaming. Plus, taking pictures can be done without causing any lags or disturbance. Image capture can be done using the microscope's capacitive touch button or through the downloadable companion software for the device. There are more ways than one in capturing learning experiences through this device.
Package Inclusions
The inclusions in the package of this product are the observation stage, suction cup, gooseneck, C-clip, a quick start guide, and the microscope body. The device is already ready to use right out of the box. There is no need for assembly or any tedious set-up. If you are having troubles operating the device, you can read and follow the instructions that are included in the quick start guide. The device already comes with a 4 ft USB cable. Simply plug one end to the microscope and the other to your smart device. You will know if your device is compatible once an automatic view of the microscope can be seen through the screen. Every part of the digital microscope is considered high quality according to most of its users. Even the metallic stand that comes with the package does not look cheap. The Plugable USB Digital Microscope is also quite sturdy, considering its affordable cost. You would not believe that it only costs $35 once you get a hold of it.
Overall, the Plugable USB Digital Microscope is great for both professionals and regular observers. However, it may not be the most useful option for people who need a microscope for investigation and other very important observations. This digital microscope is optimal for classroom exploration, coin or stamp analysis, garden parasite identification, skin observation, micro-soldering, and many more. Its rugged plastic body makes it the best choice for children and learning students.