Digital Microscope with Optical Magnification
The Jiusion USB Digital Microscope is definitely a game changer in the digital microscope industry. It is one of the most, if not the most portable digital microscope to date.
In actuality, it offers an optical magnification that is highly useful and entertaining for students, engineers, scientists, inventors, and all others who want to explore the microscopic world. Also, it is not just an ordinary microscope that magnifies things. It does so much more with its high definition camera and software support.
And did you know that you can control this device through your smartphone?
Software Requirements
There is no need to install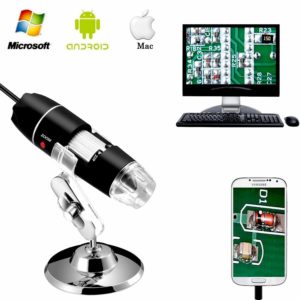 additional applications or software to use the Jiusion USB Digital Microscope. Simply plug it through an OTG cable and it will work just the way it should.
You can even connect it to your computer or television. Once connected, you can use the software to capture images and record the micro world.
The only downside with its software is it is still not applicable to iPhone users. Windows users can maximize its functionality through the software's measurement function but Mac users can still use the best features that this device has to offer.
Physical Appearance
The Jiusion USB Digital Microscope has a dimension of only 5.5 x 5.1 x 2.1 inches and only weighing around 7 ounces. Now that is what you call portable. You can use it to magnify almost any object at any surface.
There is no need to use slides or whatsoever just to get it to work. Simply hover the device to your desired object and it should be able to magnify it after a few adjustments to its lens. Its lens has a focus range of 10 mm to 250 mm. Now that is a lot for a small digital microscope such as this one. The Jiusion USB Digital Microscope can record videos of up 30 frames per second, which is already standard for most digital microscopes today.
Magnification Ratio
It has a magnification ratio of 40x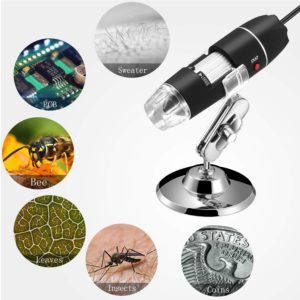 to 1000x. Many of the users reported that going to the maximum magnification will already result in blurry images.
Nonetheless, the magnification works wonders as other digital microscopes can only do up to 80x. The captured images are crisp, especially when using the minimum magnification.
The only downside on the device's camera is it can only save pictures and videos on limited formats. The only available format for video is AVI while JPEG and BMP are the only supported format for photos.
What Users Say about Jiusion USB Digital Microscope
Most of the users do not consider that a downside because the mentioned file formats are the most used today anyway. The viewing experience through the Jiusion USB Digital Microscope is really great due to its 8 LED adjustable light source.
It can be adjusted at desired levels through its control wheel. Using the device for the first time may be a bit uncomfortable due to its very small size but you will get the hang of it after a few tries. Things become so much easier once you use it for quite a while, such as adjusting the focus and the zoom and adjusting the LED light source.
Affordable Digital Microscope
The best part about this digital microscope is its price tag. It cost just a bit above $20 and you get all this functionality and portability. Imagine viewing the micro world without the need to break the bank.
Now that is a good offer! Instead of buying an expensive microscope that is quite a hassle to use, get yourself a portable digital microscope such as the Jiusion USB Digital Microscope and you will be able to observe more. Although it does not have a high-resolution camera, it still produces clear images. Most of the users are satisfied with the camera resolution considering the cost of the device.
The pictures get a lot clearer if you remove the plastic covers on the camera lens. Included in the package is a stand that can be attached to the microscope. The stand properly holds the camera in place but it makes it difficult for you to maneuver the microscope due to its very minimalistic design. Using the device, on one hand, is more preferred by most users.
Microscope for Kids
The Jiusion USB Digital Microscope is a great starting tool for kids and students due to its affordability. It does its job at magnifying most specimens. Although professional people that need a digital microscope for more critical reasons, such as forensics and investigation, need a more powerful device, this microscope will suffice to aspiring scientists.
With its price tag, you would not expect that this device can do wonders. You can already view even the tiniest objects thanks to its versatile lens magnification and focus.
Use of OTG Technology
Once you order the item, you will get a free OTG cable, metal tripod, ruler, driver, and the digital microscope itself packed in one container. The device is sealed for a safe delivery. Not one user has expressed dissatisfaction on the product's delivery.
It only takes a few days before the item is delivered to your doorstep. In case there are malfunctions or physical damages on the item upon receiving, you can quickly have it replaced from the manufacturer. But you should take note that this scenario is extremely rare.
The product also comes with a warranty period but you would not need it anytime soon due to the product's durability.
When getting the device, you have to make sure that your smart devices are running on the supported operating systems. Only iPhone users will be unable to use the digital microscope through the OTG cable.
It may take several minutes connecting the microscope to your device but it should be ready to use once done. The device is quite easy to maneuver but it may take a bit of practice before you will be able to capture crisp and clear images but the results are great.
If you desire a more accurate magnification and more durable construction, you will need to spend some extra cash on a more expensive product. However, for general users who simply want to view the microscopic world, the Jiusion USB Digital Microscope is more than enough.