Just like the software, digital microscope drivers are essential as well. This is why the two go side by side when buying and using a digital microscope. And just like any hardware or gadget, a software and a driver are requirements in order for the gadget to function. So, when you are planning to buy a digital microscope anytime soon, you must consider as well these aspects.
Digital Microscope Drivers and Software
As mentioned, any physical electronic device or as any tech-savvy wo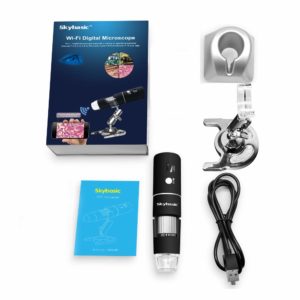 uld call it – hardware, will need drivers and software for it to function properly. And in this case, the digital microscope is the hardware. So, before you can access every feature and functionality of your chosen digital microscope, choosing the right digital microscope drivers and software is essential.
Normally, the digital microscope drivers and software already come in the package upon buying the microscope. The only thing that is left for the user to do is to install these on to their chosen device. The device normally revolve around computers, laptops, smartphones, and tablets.
But it is important for you to take note that software and system do upgrading periods in the long run. Hence, users of the digital microscopes may need to download and install updates for the software and the drivers. And these updates are, more often than not, offered on the website platforms of the digital microscope brands.
For instance, in this Dino Lite USB Handheld Digital Microscope Review, you will see that the brand offers a specific Dino Lite software and driver.
Drivers vs Software
At first glance, it may all be confusing for some, especially if you are not a tech-savvy person. But, you should not get overwhelmed by the terminologies. In fact, you may consider them as jargons. And besides, you would not really need to dig deeper on these things if your goal is to utilize the digital microscope properly.
But even so, you must understand the real difference of drivers and a software. And this is because there is a definite fine line between them. Although they are normally mistaken as being just the same,  you should know that drivers and software have specific roles on their own.
Accordingly, a quick and simple comprehension to these two will give you an idea on how things work when using a digital microscope.
The Difference Between The Two
Basically, drivers are different from a software. But, these two things go side by side, in order for an electronic device to work. And as mentioned, the electronic device or the hardware, in this case, is your digital microscope.
Now, the software is simply the program that you will need to fully maximize the features and functionality of the device. In this case, you would need a digital Microsoft software so that you can efficiently and effectively maximize the functions of it.
On the other hand, drivers are the software that controls the hardware. Although this part is too tricky, you must understand that drivers are the ones that connect the devices. So, in the case of the digital microscopes, the drivers are the ones responsible for the software's ability to function properly on the device where it is installed. Say, computer or laptop.
But, not all computers and laptops are the same. For instance, Microsoft vs Mac. So, there are specific drivers designed for each of them. Accordingly, this is why you would see several digital microscope drivers for a single digital microscope.
Choosing The Right Drivers and Software
As mentioned, digital microscope drivers and software are already included in the package once you purchase a set. Hence, a software along with the drivers of a certain digital microscope brand will be quite different from the other brands and types.
Although the main functions would work similarly, there are certain features and characteristics that would set each one apart from the others. This is why consumers and interested buyers would not only look at the digital microscope alone. But, inspection of the drivers and software is also an essential factor to consider.
Apparently, there is no right or wrong when choosing which brand has the best digital microscope drivers and software. In fact, it would largely depend on your requirements and standards. But even so, price and cost are also variables to pay attention to in this kind of matter.
Setup and Installation
For some, the setup and installation aspect may come as a very tricky thing to do. But, little did they know that it is all made convenient by the digital microscope manufacturers and brands.
Typically, when you purchase a computer or digital microscope, there is already a driver and software in the package. And the instruction manual contains all the necessary information when it comes to setting it all up and installing them.
As it happens, these processes are already given in a sequence that would not induce complications and inconveniences. However, there are still certain cases that some would still need to communicate with the service centers. But even so, these cases are usually in isolation aspect. So, there is no need for most consumers to worry.
Driver Updates and Upgrades
In some cases, the upgrades and updates are the ones that would complicate the overall setup and installation. Keep in mind that driver and software updates happen in the long run to improve the overall systems and functionalities of the digital microscope and the software.
Now, these updates are usually available on the websites of the brands of the microscopes. The only thing that you need to do is to download it from the site and follow all the necessary steps to accomplish the update and upgrade.
Final Thoughts
All in all, digital microscope drivers and software are very essential aspects of a digital microscope. Without it, the microscope would not entirely function according to its natural build and design. But even so, there is no need for you to worry about these technical aspects. And this is because the manufacturers usually ensure its consumers and buyers to obtain real convenience when using their products.
Here is a quick video to learn more about drivers and software of a digital microscope: