Skybasic's Latest Addition
The Skybasic Wireless Digital Microscope is the latest addition of Skybasic's successful line of digital microscopes. It competes with other portable digital microscopes in the market today and has become one of the best-selling products of Skybasic since its release.
With its affordability and amazing features, any micro-world enthusiast and observer would definitely find this product interesting. This handheld digital microscope can magnify objects to up to 1000x and can capture images of the magnified objects with a maximum resolution of 1920 x 1080.
Now, isn't that a great deal? You can get a digital microscope at less than $50 and explore the micro world with ease.
Mac and Windows Compatibility
The Skybasic Wireless Digital Microscope is designed to work with your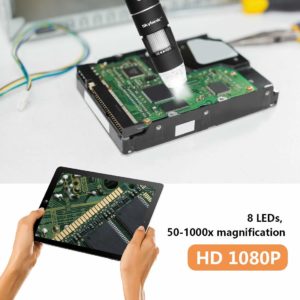 mobile device and is also compatible with Mac or Windows computer.
The device is already Wi-Fi enabled so pairing and sharing is easy to do wirelessly. This innovative digital microscope can be used to stream live footage to your mobile device from over 33 feet away.
Operating the microscope from a distance can be done over the air. You can take high-quality pictures and record videos with just a few taps on your phone screen. Skybasic has developed a dedicated mobile app that users can install for free to enable to wireless use of the digital microscope.
Camera Specification
When it comes to digital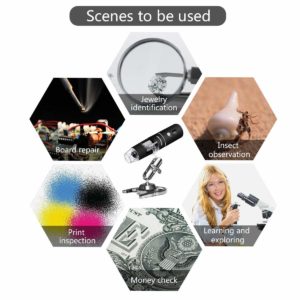 microscopes, you would most probably check on the camera specs first.
The Wi-Fi handheld digital microscope only sports a 2-megapixel camera. Although this may seem a bit underwhelming, its HD CMOS sensor image processing technology compensates the downside.
This technology greatly improves the quality of the captured images. Many of the users never had any issues with the camera resolution thanks to this innovative image processing technology. All the photos and videos are available for direct storage on all connected devices, be it your phone or computer.
The microscope is easily operating thanks to its simple buttons and minimalistic design. Its magnification button is conveniently located near the thumb area for easy maneuvering. Other than that, the free mobile app that supports the use of the device allows you to zoom in and out wirelessly.
Package Inclusions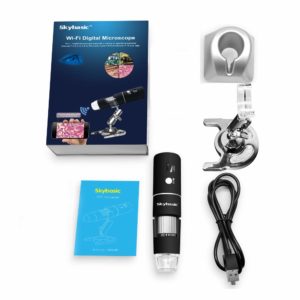 The package also comes with a USB charging cord that useable for connecting the microscope to a television or projector.
The bigger the image means the better learning experience for other people. After installing the mobile app, you can start exploring the micro world without any hassle.
Its software is compatible with most operating systems, including Windows, MAC, Android, and iOS. It is very user-friendly and even includes image development and measurement tools for multiple purposes.
The 1080p HD resolution of the microscope allows you to capture crisp views and enables to capture high-quality pictures and high definition videos. Live streaming at this kind of resolution is a great experience since you will be able to view the specimen with all its incredible details.
Adjustable LED Lights
The Skybasic Wireless Digital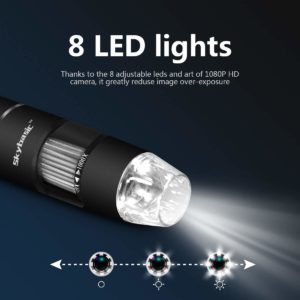 Microscope also comes with 8 Adjustable LED lights. These built-in lights have brightness adjustment using a dedicated button near the magnifier.
You can view low light specimens by adjusting the brightness level to your desired level of illumination. The device has dimensions of 130 x 30 x 30 mm and only weighs 12 ounces.
You would wonder how a device this small can work just like a standard microscope. The Skybasic Wireless Digital Microscope is features a 600 mah inner lithium battery.
A fully charged microscope can last you about 3 hours of uninterrupted usage. The recharge period of the device does not take very long, according to most users. Thanks to the DC 5V charge rate of the device, it can get a full juice in just about an hour.
Supported Formats
The only downside on the item is its limited support formats. It can only store images using the JPEG format and videos using the MP4 format. This can be a bit off for some users since not all devices support these formats as well.
Nonetheless, JPEG and MP4 formats are the most popular image and video formats today so this should not be a deal-breaker for most. The digital microscope can be operated single-handedly but it can also be fixed in a position using a metal tripod that comes with the package.
The metal tripod securely places the device on a certain position and angle so that you can start observing the specimen using your phone from a distance. The metal base supports fixed and adjusted observation. While on the metal tripod, the device features a rotational movement up to 360 degrees.
Powerful Wireless Feature
Skybasic has already made sure that the Skybasic Wireless Digital Microscope contains a powerful wireless module that provides a stable Wi-Fi connection.
Users of the devices reported uninterrupted live streaming on their phone while the microscope is in use. However, the pairing time for both devices may take a few minutes to complete but everything should be good by then.
Included in the package are the metal tripod, a charging line, packing box, the base, an instructions manual, and the digital microscope itself. The Skybasic Wireless Digital Microscope is not just meant for professional scientists. Even students, children, and interested users can have the device.
Affordability
With its cheap price tag, having one should not force you to break the bank. You can use the digital microscope in various applications, including observing plants and animals, skin examination, and many others.
Many recommend this in sharing observations in a class. Because it also supports USB connection, you will be able to magnify your observations through television or projector.
The details of the images still retain even on a much wider screen, thanks to its 1080p image resolution. Because the devicealready comes with a Wi-Fi module, you can start sharing your observations directly after capturing images of them. Isn't it amazing that you can already observe the micro world at a very affordable cost?
There is no need to get yourself a standard microscope that most scientists use. You can have one directly from an online store and it will arrive right at your doorstep in a few days.