TSAAGAN WiFi USB Digital Microscope is one of the favorite optical instruments by many hobbyists. And because of this, many people think that this digital microscope is only suitable for entertainment purposes. But the truth is – it's not. As it happens, this digital microscope has a wide variety of applications. And in this post, you will get to learn what these are.
In the recent times, digital microscopes have revolutionized how a person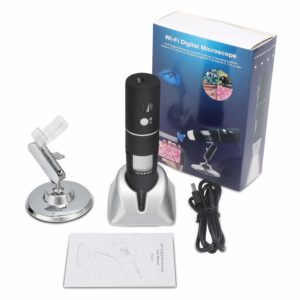 sees things in detail under a microscope. Clearly, they are very much different from the traditional microscopes. Although many would still prefer to use the conventional types, there are specific features that a digital microscope can offer that the traditional ones cannot. But even so, some microscope users state that it is not entirely appropriate to compare the two optical instruments. And it's all because the two have specific functions.
Accordingly, many individuals possess both of the microscopes. Nevertheless, this is not to say that one should have both of them as well. So, if you are looking into the digital microscopes and you are planning to have one, then this post might help you too.
The TSAAGAN WiFi USB Digital Microscope
You need to know that the TSAAGAN WiFi USB Digital Microscope is what every curious person needs to use. That is, especially those who want to see the littlest of things. Once you begin discovering things under a microscope, your scientific mind will be awakened and will immediately take over.
Apparently, this microscope is not really the most perfect one. It has its downsides as well. Besides, no product is perfect. But, TSAAGAN WiFi USB Digital Microscope offers various features and functions that are very useful to every microscope user.
Aside from being a WiFi-enabled instrument, the specifications are all on point. And in parallelism to the fact that people have become so reliant on technology in the present, this is just an advantage for TSAAGAN. Keep in mind that not all digital microscopes have a wifi module. Some others would only have USB or Bluetooth connections. Hence, this could mean a few limitations on such instruments and tools.
As for the ones that have wifi features, this means that people use any device such as mobile phones and laptops to easily connected with this equipment. And having this digital microscope is no different. It lets you easily connect it with other devices that you have. As long as both of your devices are capable of connecting through Wi-Fi, then for sure, you will not have a hard time making the most of this microscope.
Uses of The TSAAGAN WiFi USB Digital Microscope
When it comes to the TSAAGAN WiFi USB Digital Microscope, you are able to add fun and excitement as you make experiments and observations. There are just a lot of fun things that you can apply to Science. There is really more to it than just gathering facts and information.
Thanks to Science and the help of this digital technology, you will be able to uncover things that you once thought never existed. Even those things that you have failed to pay close attention to in the past can be better appreciated by you. Professionals who use microscopes are not the only people to utilize this tool the most.
If you want a much closer look at its overall uses and functions, this short video may help you. In the video, you will also learn how to set it all up and how each feature would work.
Now, kids, students, and hobbyists can discover a lot of helpful applications by using this digital microscope. Once you have figured out for yourself that there are a lot of things you need to learn about the world around you, that is the best time that you start exploring each and every one of them with the use of this microscope. If you are thinking of starting a research career and doing things that tickle your curiosity and fancy, then this is the digital microscope for you.
The Overall Applications
Again, the TSAAGAN WiFi USB Digital Microscope offers you with different applications. This is very rampant nowadays as many professionals utilize this particular instrument.
Jewelers, for instance, use this one to assess precious stones and gems with more convenience and accuracy. Even coil and stamp collectors can benefit from this tool if they want to make sure that what they are adding to their collection is really authentic and worthy of their time and money.
As it happens, this instrument is quite popular to many newbies due to its multifunctional applications. Aside from the jewelers and collectors, individuals from various technical-related industries are also utilizing the TSAAGAN microscope. These applications normally involve medical analysis, dissection examination, computer parts inspection, skin and scalp examination, reading aid, and other industrial-related inspections.
To put it simply, a lot of companies and industries can benefit from the use of this kind of digital microscope and not just the education sector. So, it is not entirely true that the TSAAGAN WiFi USB Digital Microscope is designed only for enthusiasts and hobbyists. As long as the job requires a detailed analysis and assessment using a microscope, then this digital microscope will work just fine.
Physical Build and Structure
Alongside the wifi module, this digital microscope is very compact and portable. Although most digital microscopes today are pretty much small in size, this one is quite handy. The structure and build are very ergonomic. And this means that even when you use it for a much longer period of time, it won't cause any pain or stress in your muscles. Accordingly, this factor adds to its overall convenience and ease of use.
In terms of its looks and appearance, the TSAAGAN WiFI USB Digital Microscope is very sleek making it quite appealing to look at. In fact, there are actual users who admit to buying this particular digital microscope due to its overall style and appearance. So, if you are looking for a digital microscope that is easy to use, versatile, and quite good-looking, this one may be the most suitable choice for you.